Seven of Cups tarot card meaning
UPRIGHT

inwardness, dream, desire, choice, construction,

REVERSED

pretense, indecision, temptation, illusion, diversion,
As part of your voyage to discover the riches of the Tarot, are you interested in learning the meaning of the Seven of Cups today? This arcana is the subject of a lot of debate in the cartomancy community, so I suggest you read the explanations on this page very carefully.
The Seven of Cups doesn't always have a good reputation among divination tarot specialists, because it often reveals the seeker's propensity to disperse their energy in their dreams without being able to bring them to fruition in the world. However, you should also note that the interpretation of any card depends on the level of knowledge that the card reader has. For some, therefore, the Seven of Cups can be evidence of the abundance of choices the seeker currently has.
From a visual point of view, it is easy see that the Seven of Cups is both complicated and revealing. The 3 lower cups should be considered as the pillars of an emotional world whose only need is to express itself. And it is from them that the beautiful red, white and blue plant motifs have their origin. The second part of the image consists of 4 cups that form a triangle, with one in the center of the card and the other 3 on its upper part. This triangle suggests the idea of circulating energy, as if the emotions contained in the central cup were able to spread to the others, as part of a quest to share things. Because, in fact, love often gives more than it receives, and impartially.

The major pitfall of the westerner is not so much reason as the person.
short-term

In the short term, the Seven of Cups invites you to be distrustful. Just for now, forget about your dreams and use your energy for causes that are really worth it. Learn to get a better understanding of your desires and ensure that your goals can actually be achieved.

long-term

The mirror effect of the Seven of Cups is to confront you with your dreams and the possibility of achieving them. For your action to be long-lasting, you need to ensure that it is the result of your deepest desires and not of rules imposed on you. But, in order to develop on your life path, you need to understand that some of your desires can never be achieved. Make choices and focus on those that can shape your future!
Would you like to make a draw of the Tarot cards?
Seven of Cups Tarot Card Meaning
Seven of Cups upright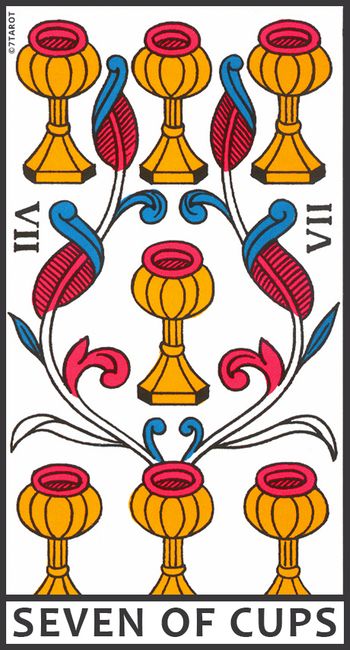 When it appears upright, the Seven of Cups always refers to your buried desires and how you view the world, but also to how you express that in the real world. It is a very personal card, that pushes you to get a clear understanding of the dreams that drive you.
In an ultra-standardized society, that emphasizes financial success, the ability to dream is a great asset for those who are willing to learn how to use it. Because, of course, no human life can follow a straight path, taking the seeker from birth to death along a carefully planned parade. To become truly and completely fulfilled the seeker must understand that sometimes the paths that cross the main road are better, and perhaps it is a good idea to learn how to abandon some of the codes that constrict their way of behaving. No one's path is pre-ordained and any actions you take should be the result of looking carefully and lovingly at your true desires.
If you dive into your subconscious, your true plans will appear more clearly. And they will guide you onto the path to fulfillment. On the way, however, you need to be particularly careful about illusions and pretense that are likely to draw you into unrealistic projects or simply lead you down a path that doesn't suit you at all. So that you aren't deluded, you need to look reality in the face and work to achieve your dreams over the long-term.
Seven of Cups reversed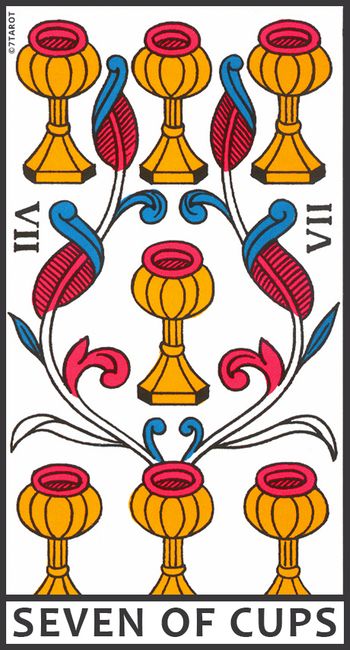 The Seven of Cups invites the seeker to be cautious. The card indicates that temptations and illusions are always close at hand. So, of course, you should try to keep them as far away as possible from your life.
Human psychology is a fascinating field, in that it is as much about the will to build as it is about impossible dreams. If your daily life is not very satisfying, it's very easy to be seduced by your dreams! You always hope you can completely change yourself, just like getting rid of a garment that has become too small.
Is this the most common palliative solution for all your problems? Yes, they are artificial paradises, but they also reflect our natural ability to believe the most fantastic illusions. So, it's easy to give in to the temptation to be diverted and believe that your fantasies are credible. To overcome this situation, it will be important to take your head out of the clouds and focus more on what really matters in your life. You don't create your destiny inside your head, it is built step by step, as a result of concrete and well-considered actions.